Typically a Sub-Domain web page would include a few images and contact information.


Please see Web Site Add-On Items for additional options like forms, animation, audio or video, or e-commerce. Additional basic Sub-Domain pages are $150 each.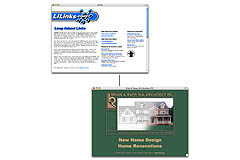 When you contract with 8thPlanet.com for a Sub-Domain Web Page plan and one (1) additional year (2 total) of sub-domain page hosting, you will receive a FREE brand new silver 1GB Apple iPod shuffle. Sub-Domain page hosting is $99/year, and your first year is included in the production fee. You will receive your iPod once the design and hosting fees are paid in full.



Note: All Sub-Domain Web Pages are hosted by 8thPlanet.com. LILinks.com, SideGigs.com, BlueRedBlue.com and BigBluePearl.com are domain names owned by 8thPlanet.com.